Hello I am Kaleb Porter from http://kps-blog.blogspot.com writing a post here about links -g, the graphical text web browser. I am sure your asking your self by now, "graphical text web browser? that makes no sense." well your pretty much right.
What links -g is, is the text based web browser "links" in it's own X window. This gives it the ability to display images which is very neat actually.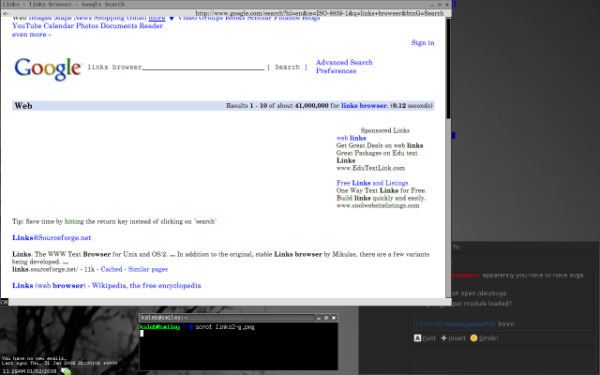 Neat right?
Links -g still uses the same old links keys that we are used to from our cli versions that we love so dear. And if you don't use gpm, you can now use your mouse along with your browser. However if your experienced with gpm this feature may be old news to you.So your asking yourself, "Why the hell do I care about this?" well links -g is an amazingly fast web browser. So if your like me and completely upset at the horrid speed of today's full featured web browsers… Opera, Firefox, or if your in MacOS Safari, and IE for Windows, then you will love the super fast speed of links -g. Also if your the type of person I am who just flat out likes the simple stuff, or the power user using a nice tiling window manager like dwm or something and you want to be able to display images in your web browser, then you will love links -g.
Sounds great eh? Well it truly is there are drawbacks however most of who will want to use links -g don't mind these so called drawbacks.
1. Flash.
OK OK so it doesn't support flash playback…big deal, hey it's a TEXT based web browser that just happens to be running in X so to support images. You have to give it credit for doing that. And doing that very well.
2. No built in file browser.
OK for this you might be wondering, "What file browser in my web browser?" Well there is a file browser in Web browsers such as Firefox and Opera. These file browsers allow you do do things like pick a file you want to upload to say Photobucket or something. It can still be done, you just need to know where on your system, the file you want to upload is.
3. Other animation software (Java… etc.)
Well you can't just expect this thing to have support for super cool animation effects from Java because it just doesn't have a Java plug-in. Note that this is NOT Javascript. Javascript and Java are two different technologies. Javascript is fully supported under links -g.
To install:
In Gentoo:
Make sure you have the proper use flags set up….(png, jpeg, svga, tiff, javascript, X, and ssl if you want it.
In Arch Linux:
Everything should be set up for you on Arch so just make sure you have libsvga installed (it may be installed when you install links as a dependency).
To run links in graphical mode:
or
Have fun!